COVID-19 Update: Dear Applicants and Potential Participants,
Our crews and individual placements have always been the foundation and driving force of this organization. The safety of our participants has always been our utmost priority. Since the beginning of the COVID-19 situation, we have activated an Incident Response Team and are working around the clock to monitor and manage the effects of the outbreak. Conservation Legacy and its programs are strictly following guidelines provided by the Center for Disease Control (CDC), the World Health Organization (WHO) and local public health agencies. If you have questions, please don't hesitate to reach out to your program or recruitment staff.
As conditions change, Conservation Legacy policies will evolve—we will post our most recent updates on our website and via social media. Please stay connected for the most up to date information.
We urge everyone to follow CDC and WHO protocols to limit the spread of the virus. We hope that you and your families are well.
In Service,
Conservation Legacy and Program Staff
SECC ASLi Outdoors Fall Program
SECC ASLi Outdoors program is an opportunity to engage youth and young adults from the Southeastern region and introduce them to the outdoors, camping, and conservation work.
Southeast Conservation Corps's ASLi program was developed in 2019 for the purpose of engaging d/Deaf and HoH youth and young adults in the field of conservation. Our crews have done work on Forest Service land and National Park service land working on service-based projects for the trails and recreation areas that our partners manage. This program provides education about conservation and outdoor work, resume building opportunities, as well as professional and personal development.
Schedule for weekend overnighters:
Session 1: Sept. 30-Oct. 2nd -Cloudland Canyon State Park
Community partner: Georgia Center for the Deaf and HoH. SECC will pick-up and drop-off youth at GCDHH.
Pick-up time: 3:00-4:00pm EST
Drop-off time: 2:00-3:00pm EST
Work type: corridor clearing, drain clearing in Cloudland Canyon State Park. The exact trail is TBD. Large trail system at this location.
Session 2: Oct. 14-Oct. 16 at Chattahoochee-Oconee National Forest, Conasauga Ranger District
Community partner: Atlanta Area School for the Deaf and GCDHH and the Forest Service.
Pick-up time: 3:00-4:00pm EST
Drop-off time: 2:00-3:00pm EST
Work type: corridor clearing, aiding in filling in trail/general trail maintenance. Project location will be the Fire Tower trail or the Songbird Trail in Chattahoochee-Oconee National Forest, Conasauga Ranger District
Session 3: Oct. 21st-Oct. 23rd location
Community partner: Eastern Kentucky University and the Forest Service.
Work type: Corridor clearing, tread maintenance, and overall trail quality
For more information please reach out to Taran Branscum our YCC Field Supervisor, tbranscum@conservationlegacy.org or Eleanor Lane our YES Intern – Youth Empowerment Steward, elane@conservationlegacy.org
Southeast Conservation Corps (SECC) is excited to announce the continuation and expansion of the American Sign Language Inclusion (ASLi) crew program.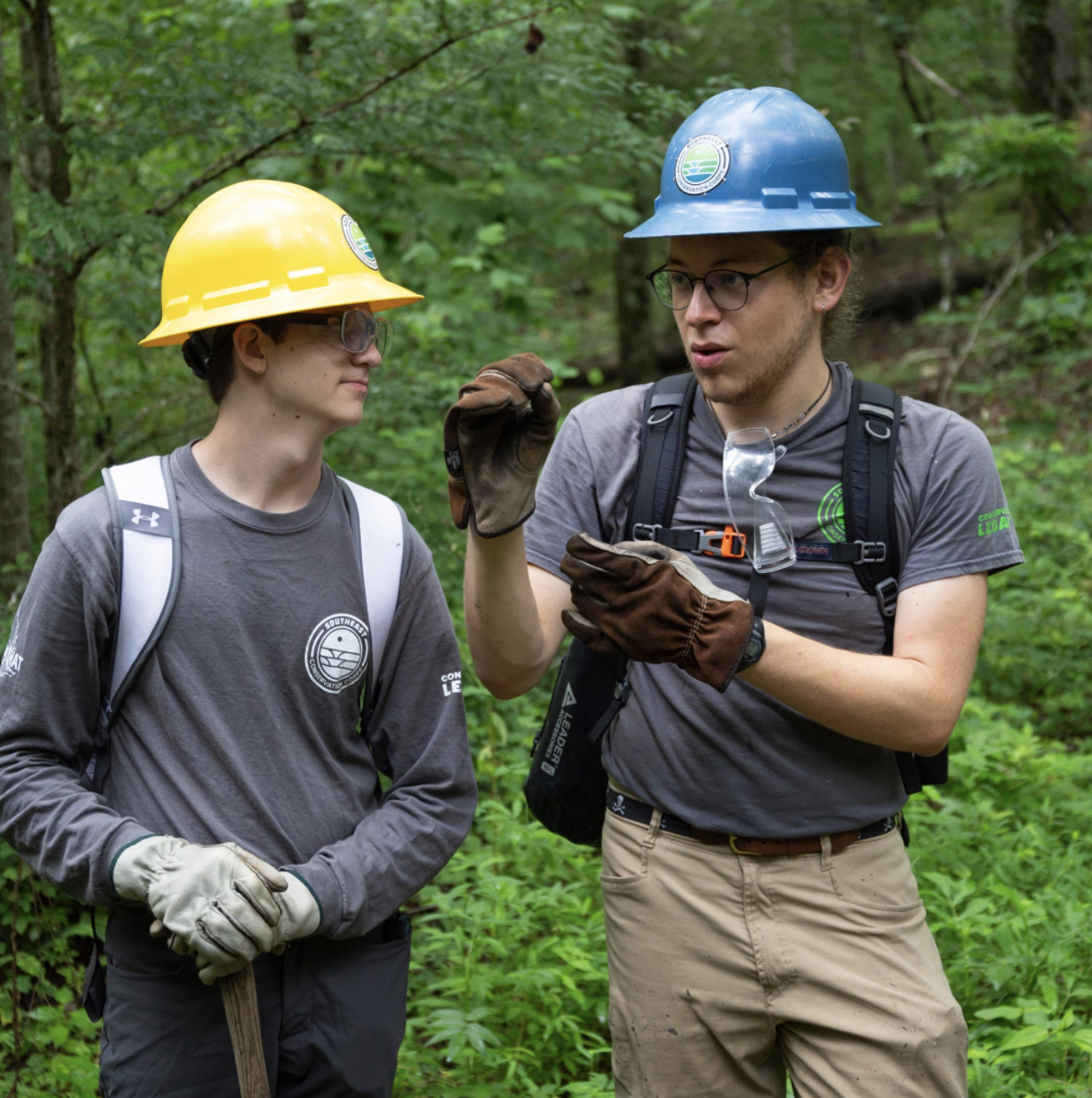 Following in the footsteps of SECC's Youth Conservation Corps model, Deaf and Hard of Hearing teens are afforded the opportunity to participate in a program that empowers them to learn and grow through addressing critical conservation service projects such as trail construction and maintenance, habitat restoration, and invasive species management within the Southeast Region.

Currently, no other corps models exist within the Southeast region for Deaf and Hard of Hearing youth to gain job-training skills related to conservation and natural resource management. As such, one of the most exciting pieces of this program is that SECC is equipping these members with the skills needed to seek employment within this field.

As these opportunities grow in collaboration with Deaf communities, organizations like SECC can continue to facilitate programs that lead to a more equitable and inclusive presence within the outdoor industry. This project will continue to grow the legacy of conservation that SECC began in 2013, by connecting young people to their natural environments.
SEE OUR PROGRAM IN THE FIELD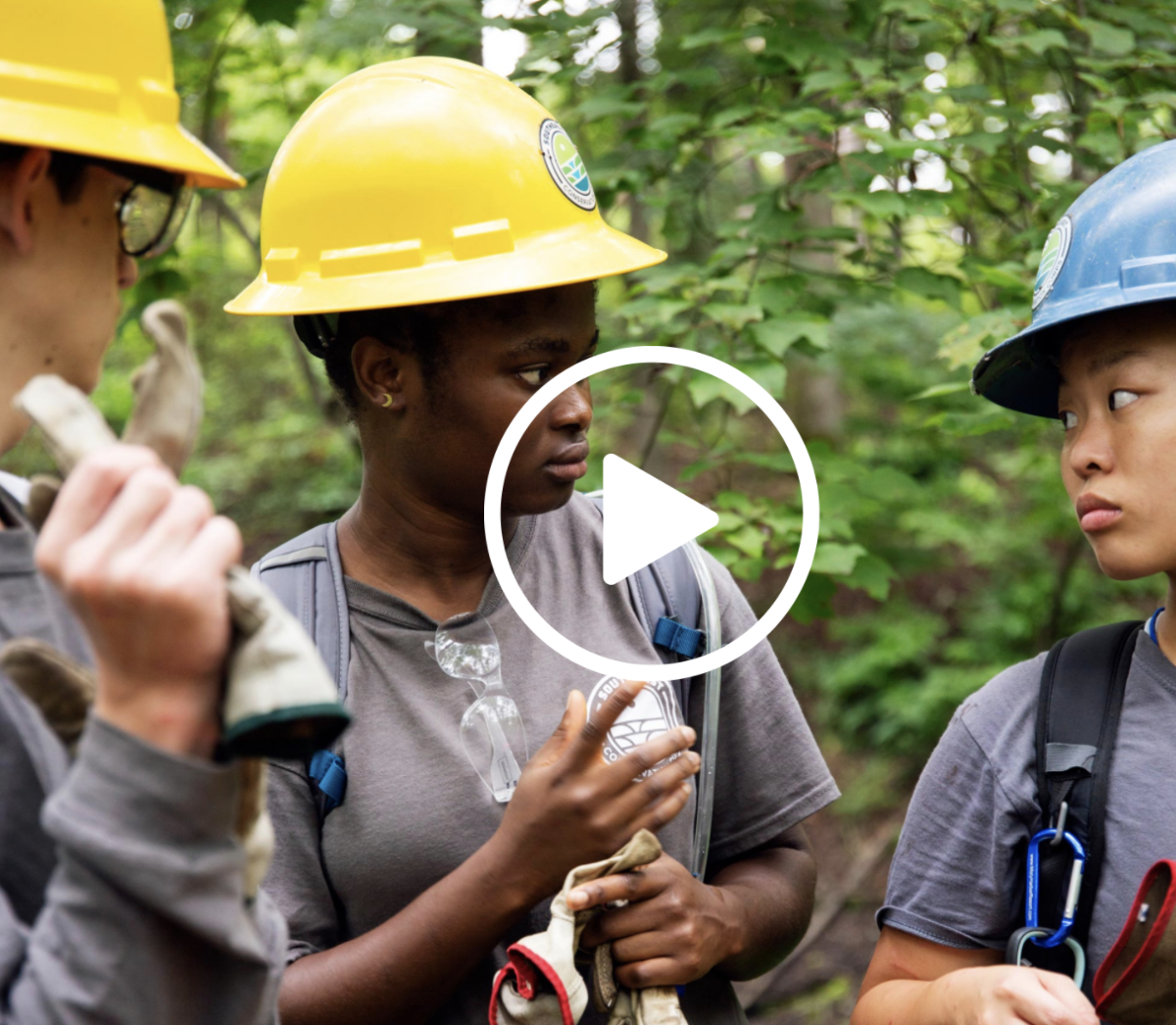 Each ASLi crew will:
Consist of two adult leaders who are fluent in ASL, and six members ages 16-19.
Travel, work, camp, and recreate within East Tennessee and North Georgia.
Work in partnership with organizations such as Lula Lake Land Trust, The Nature Conservancy of Tennessee, and the U.S. Forest Service.
HELP US GROW
SECC has received a grant from the Riverview Foundation and funding from the U.S. Forest Service totaling $50,000, for the 2020 ASLi program season. We are close to our necessary funding goal of $60,000 and would love for you to consider a donation in support of this unique and import program model. Visit our Give page and our Adventure Makers page for more information on how to contribute to our continued success!
SECC recognizes its responsibility to engage the next generation of land stewards and hopes that you will join us in building a more inclusive and equitable landscape for Deaf youth.