Explore Series
Looking for an opportunity to explore natural spaces with SECC without committing to a term of service? The Explore Series is a new way to volunteer with SECC while also gaining valuable skills like resume building, professional development, as well as an introduction to the conservation world, Southeast Conservation Corps, and what it takes to keep our wild places pretty and sustainable!
Day Events are a great way to get your group or organization into the outdoors and learn via education by SECC Staff, and other organizations we partner with. Some examples are: Aquatic Ecology talk with SECC Staff, Paddle boarding with SECC Staff. Volunteer Events are a option for you group as well to get a feel for the work conservation corps' and trail crews do on a daily basis during a season with us. Some examples are working and cleaning up a local trail with SECC Staff. Events like this can help achieve professional development goals, resume building skills, and volunteer hours for service projects.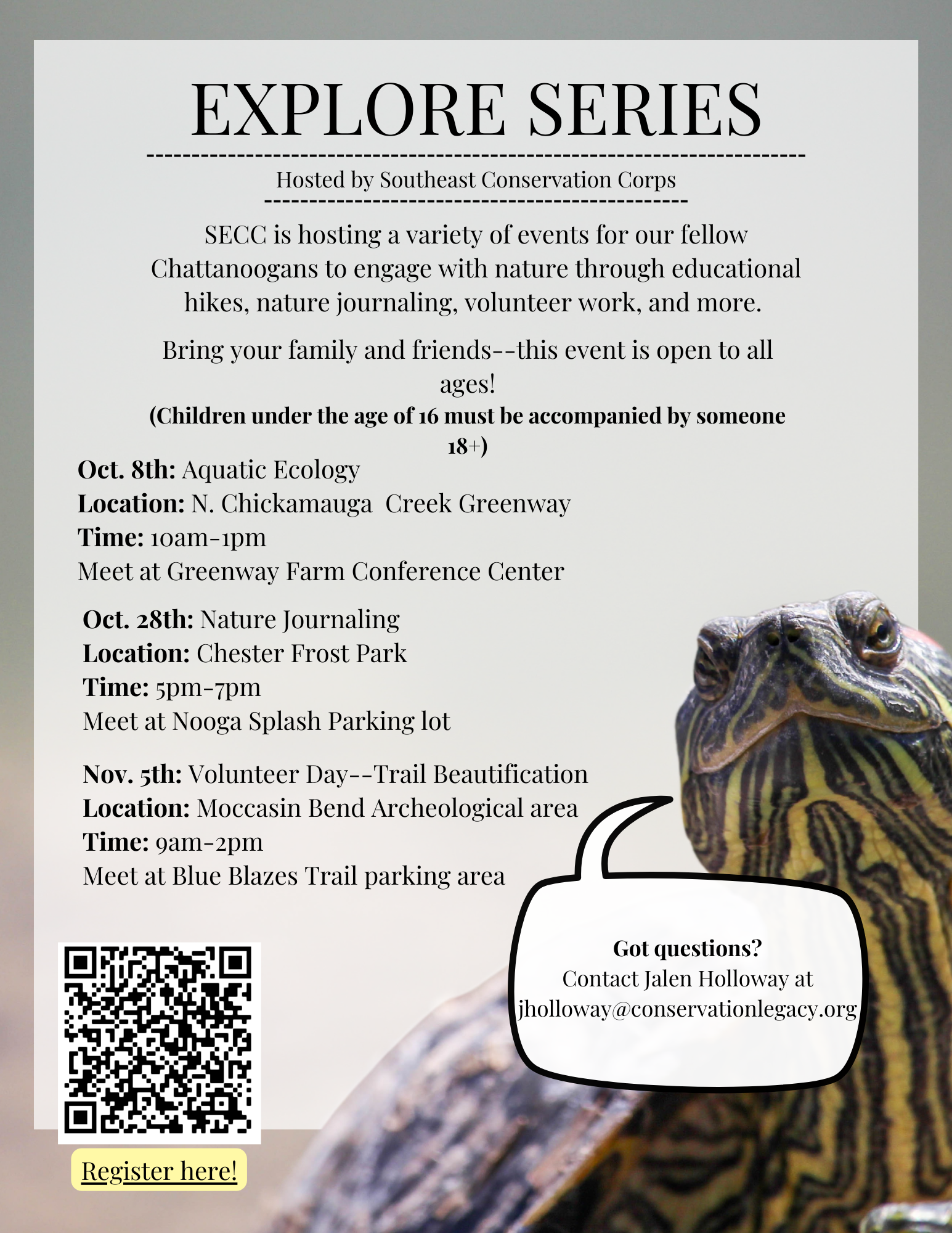 FAQ for Students and Teachers

All Explore Series events are free.

Yes, your parents can attend the event.

Yes, all are invited, bring your families and friends.

No, SECC will provide PPE, hard hats, gloves, and eye pro.

Short sleeve or long sleeve shirt, long pants, and hiking boots.

SECC recommends each participant to have 4 liters with them per day. 4 Nalgene's or 1 gallon of water. Water will be provided for volunteers.

SECC highly encourages signing up ahead of the events as it helps us keep track of the number of volunteers and bring the right amount of gear. We have limited spots on our volunteer dates due to capacity and gear counts. Currently we have room for 15 people for each event.

For more information about Day Events, please reach out to: Jalen Holloway at jholloway@conservationlegacy.org or call (423) 322-4976.

For more information about Volunteer Events, please reach out to: Taran Branscum at tbranscum@conservationlegacy.org or call (423) 439-9245.

Reach out to us and we can plan an event for your group or cohort!