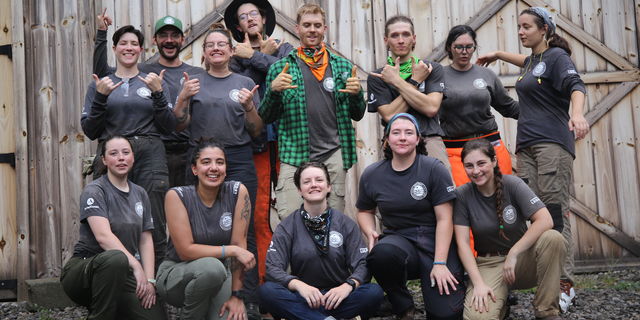 Southeast Conservation Corps
Southeast Conservation Corps (SECC), operates conservation service programs throughout the Southeast that focus on meeting the needs of the natural landscapes while empowering people to cultivate compassion, responsibility, and grit through community service, hard work, and environmental stewardship.
Building upon the legacy of the Civilian Conservation Corps, we are focused on connecting people to the natural environment through conservation-based service learning, personal development, and recreation.
185,820

Service Hours since 2013

967

Total Program Participants

383

Miles of Trails Improved

122,119

Acres Improved
Play Video

Meet Crew #943

Boots on the Ground

For over a month, Southeast Conservation Corps #943 worked and lived on the Natchez Trace National Scenic Parkway, in partnership with the National Park Service and the National Park Foundation. Check out the video and meet the crew!

Paul • AmeriCorps Disaster Response

Boots on the Ground

Over the past week, we'd grown relatively close to many of the other members from across the country, especially given the short amount of time. Once we get the hang of things, this will be a good month. It already is so far."

Natalia • Adult Camping Crew

Boots on the Ground

It was awesome at the end of each day, and then the end of the week, to take a step back and look at what we had accomplished. Not only does the trail look way better, but it's easy to see that our work makes the area much more accessible and safe."

Alexis (left) • Youth Conservation Crew

Boots on the Ground

Being a part of this type of job had me worried because I wasn't sure if I was cut out enough for it but now I see that anyone can do it, especially with an encouraging crew."
Our Partners Keep Us Going
Southeast Conservation Corps partners with land management agencies to accomplish critical conservation projects while providing young adults an opportunity to learn about land management issues and challenges. Partners make it possible!
From the field:
Working with the Southeast Conservation Corps is a win-win for all parties involved. The park benefits by getting quality workmanship on projects that benefit our visitors and the environment. The young adults that make up the SECC crews are well disciplined and are eager to work and learn through engagement with the park staff." 
-Chris Revels, Park Ranger, Kings Mountain NMP, 2017