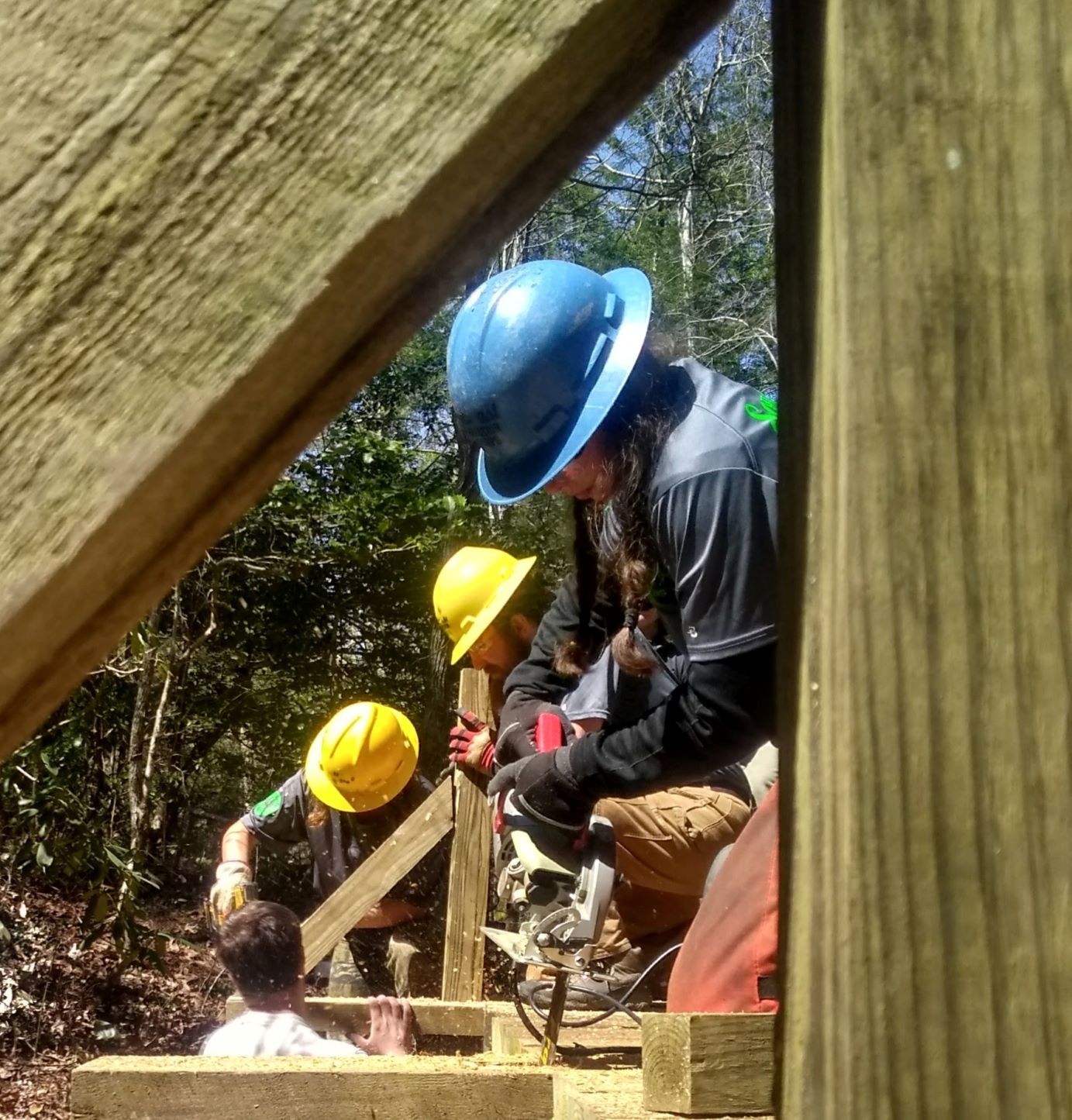 March 30, 2019 | Stretching and groaning, I attempt to rinse out the day before's workload and emerge out from my cozy sleeping bag into the cold of dawn. Unzipping my tent to a dark morning, where the forest's many inhabitants have yet to awaken and the moon's glow still illuminates the sky. I inhale and exhale the morning dew that has also made home atop of my tent and gear. As I slowly make the bold transition from dream state to reality, I remember how lucky I am to be where I am, waking up with the wilderness.
The hitch started with a quick rig up, a farewell to Chattanooga, and a beautiful drive through the Cumberland Gap to reach our returning destination of Daniel Boone National Forest, Kentucky. We arrive at Holly Bay Campgrounds and quickly settle in to our "new home." We set up camp nestled up on a hill overlooking one of Laurel Lake's marinas. Not yet open to the public, we appreciate our solitude and our project partner's kind hospitality.
Excited to get working we consume some calories and hop in the van to get started on our afternoon's agenda. We head up to a horse friendly campground, Little Lick, to prepare the area for the weekend's big campsite renovation project and clean up for our many recreational weekend visitors, four-legged friends included. We rev up the leaf blowers, empty out the fire pits, and collect accumulated trash in the area. (Imagine here a ramblin' rant about the detrimental impact of Micro-trash.) The next day we head back to our old stomping grounds at Flatwoods Recreational Area to put some finishing touches on our previous 'Picnic Rehab' project. Miraculously dodging a heavy rainstorm, we left with a sense of accomplishment, a new skill set, and an intact moral. This being said the short spurt of hail didn't bother us so much. Although the wind definitely got the better of our camp that day, it's quick to forget a runaway tarp after a hot curry dinner and a full belly of healing spices.
We went on to have a full and exciting hitch of trail maintenance, bridge reconstruction, campsite renovation, grill installation, and trash pick-up, sprinkled in with valuable nightly lessons and a good laugh or two. Not to mention how the Forest Service hooked us up with a celebratory BBQ after installing grills at Little Lick and a recreational trail hike up to Dog Slaughter Falls. It was easy to fall in awe of the trail's beauty, the river's translucent water and it's rocky contours, and the forest's deepening shades of green. It was rewarding to say the least to watch that last screw go in on our last full day of work, completing the bridge and giving the public safe access to such a breathtaking neck of the woods.
On our last day, we took the morning to walk along the Scuttlehole trail, admiring all the signs of Spring's arrival. The trees begin to bloom while the Rockcastle River runs still, and our imaginations begin to time travel back to when these were uncharted lands. We take in our last morning at Daniel Boone and our last moments of winter. 
 Thank you Kentucky. You treated us well. 
- Rei Argeroplos, Leadership Crew 947